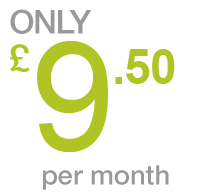 Children's Dental Health Plan
The aim of our Children's Dental Health Plan is to provide high quality care and treatment in a relaxed, comfortable and safe environment for your children.
We are committed to continuing education and keeping abreast of advances in modern dentistry. Tooth decay is one of the most common preventable diseases and to prevent it requires a commitment of time and effort.
With the correct habits, there is no reason why your child should not have healthy teeth for life. Research shows that preventive dentistry delivered on a regular basis greatly reduces the risk of dental disease in children and provides a platform for a lifetime of improved oral health.
With this in mind we have joined with DPAS Limited to design a dental plan for children. This plan will be administered by DPAS who will make a separate arrangement with you to manage your payments under the plan. The plan will provide advantages both to you and to us. It will allow us to plan your child's dental care more effectively and provide the best chance of keeping your child dentally fit. The advantage for you is that it should minimise your child's need for fillings and extractions and you will have the peace of mind that all of your child's preventive dental care will be covered by convenient monthly payments.
Our plan also provides a Worldwide Dental Emergency Assistance Scheme for dental emergencies or dental injuries whilst at home or abroad – essential cover for the rough and tumble of childhood.
What does our Children's Plan include?
Our Child Dental Health Plan for 6 to 17 year old costs £9.50 per month and covers:
2 Healthy Mouth Reviews per year
All fillings and extractions of baby teeth
All small x-rays
Priority invitation to Dental Health Education sessions
20% Discount off treatment for adult teeth
Free out of hours emergency care
Membership card with 24 hour helpline numbers for dental emergencies at home or abroad
Worldwide Dental Emergency Assistance Scheme
The monthly plan cost includes the charges for management and administration payable by you to DPAS.
Key benefits include:
The cost of your child's preventive dental care
Payment by convenient monthly Direct Debit, allowing you to budget
Preferential appointment times
Access to a 24 hour dental emergency helpline 365 days per year
Worldwide Emergency Assistance Scheme
Any treatment that is excluded from the Dental Health Plan can be carried out on a private basis.
* Examinations are included as part of the membership after 6 months.
How do you enrol your child onto our children's plan?
Your child will need to have a new patient examination at Evolve Dentistry when they join our plan. If you sign up for our Dental Health Plan on the same day, the fee for your child's new patient examination will be waived. All you have to do is complete a registration form for us and a Direct Debit mandate and authorisation form for DPAS, on behalf of your child.
Terms and conditions
The Child Dental Health Plan is open to all children aged 6 to 17 years who are in full time education. All patients must have had a full examination at Evolve Dentistry prior to joining the Child Dental Health Plan.
Payment is by monthly Direct Debit.
If the Direct Debit is cancelled within 1 year then full treatment fees will need to be paid retrospectively for benefits already received.
Terms and conditions are reviewed every 6 months and are subject to change.
To be able to offer these fantastic benefits, membership is strictly limited and benefits can be revised at any time.
Read our latest CQC report