In Sickness and in Health, to Love and to Cherish until SNORING do us part!
Whilst we all laugh at the jokes about our partner's snoring, the reality is not so funny as this video….those couples who want to share their bed with their partner, often end up in separate rooms just to get a proper nights sleep. The other list of adverse health effects caused by snoring not only apply to the snorer – but also to the bed partner.
So hands up if you are one of the 15 million snorers in the UK (or a bed partner)? You will not be getting the right amount of quality sleep for optimum health and you could suffer from the following:
Sleepiness in the day – the DVLA believe that 20% of major accidents are due to drowsy drivers – but will not remove your license if you are undergoing treatment
High Blood Pressure
Sexual problems
Accidents due to fatigue
Irritability and arguing over who has the worst case of TATT? – Tired all the Time
And left untreated this can escalate to
Poor memory function
Poor concentration
Depression
Intellectual deterioration
Saving relationships and generally changing lives – how a dentist can help
Whilst Dr Google can be jolly useful, it is not always giving the best advice regarding snoring aids. There are a plethora of devices on the market and naturally we hope to find the most cost effective. However, Dr Tom McKay, consultant respiratory physician at the Edinburgh Royal Infirmary Sleep Centre has been quoted as saying 'Sprays do not have any great effect although nasal steroids have a small role if you have nasal congestion.'
Making sense of the mass of information on the internet
As with any medical condition it is important to ensure you get a proper diagnosis from a dental professional rather than self diagnose.
There is a scale of sleep breathing disorders and if you are at the extreme end of the scale and are suffering with sleep apnea we would need to ask your GP to refer you to a specialist sleep clinic. You will be at a greater risk as you will stop breathing, starving your blood of oxygen for up to a minute of so.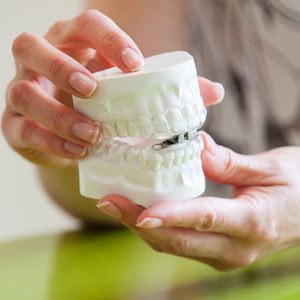 For more moderate cases, but still troublesome, an appliance can be made to fit your mouth to hold your jaw forward at night to prevent your windpipe form closing up. Some of the over the counter devices could be harming you – if they are too small of course they can fall out and are no use but if they are too bulky this will fill up the space you are trying to open.
At Evolve, we only fit devices once we have completed a proper diagnosis, which entails checking with you and often your bed partner your results on the Epworth sleepiness scale as well as the Adjusted Neck Circumference. In addition your gum health would be checked as this would determine if you are suitable to wear a device or if  you would need time with one of our hygienists first.
You can check your Epworth Sleepiness Scale here – if you are on the border or higher then it is my duty as a professional dentist to invite you for a full sleep breathing disorder assessment.
As I also have a special interest in Temporal Mandibular jaw disease (TMJD – read the recent blog here), I have noticed that often people who grind their teeth are often snorers too. Having this special interest in TMJD means that I have more than one treatment to offer, as sometimes my patients who have been treated for TMJD stop snoring after their treatment. Conversely, some people who consult with me regarding TMJD, are in fact suffering with a sleep breathing disorder – hence me urging you to ensure a proper and thorough diagnosis.
Lifestyle Matters – how to return the household harmony!
If you think you are borderline the following may help you to reduce the risks associated with sleeping disorders;
Weight loss
This will reduce the neck circumference and therefore the pressure is reduced on the windpipe. 80% of those suffering the most extreme sleeping disorders are overweight– reduce the sugar in your diet and not only will you reduce the risk of a sleep disorder and its side effects, but also diabetes and of course caries. So reduce your intake of sugary drinks, cakes, biscuits, puddings and sweets.
NB It is now being recognized that there is such a thing as Skinny Woman Syndrome suffering with sleep disorders – this is because the airways are small already so the next tip could apply to SWS.
Reduce alcohol intake before you go to bed – it contains sugar (see above), but is also a sedative and so the muscle tone of the throat becomes relaxed and the snoring starts – and goes on – and on..
Try sleeping on your side.
Ask for support and understanding from your bed partner – this is a medical condition and cases are rising.
See a dentist who has a special interest in sleep breathing disorders and TMJD – it can literally change your life and that of your bed partner. This may seem a massive claim but as experienced dentists we have had feedback that this does happen and the household harmony returns!
Here's to keeping your wedding vows or your special commitment to each other and to wishing Harry and Meghan a snore free marriage!
You can have an initial free non clinical consultation with Julie and Rachael our Treatment Co-ordinators or you can book a full clinical consultation with Dr Jonathan Sproson – we would like to give you a little reward for reading all the blog! So until the end of May 2018 you will receive 20% off the normal fee when you quote EDSBD.
Dr Jonathan Sproson is a General and Cosmetic Dentist at Evolve Dentistry and was a previous finalist for Dentist of the Year in National Dental Awards. He started to study TMJ disorders when he started seeing more complex cosmetic cases. He noticed that many of his patients suffering with TMJD also were snorers and their bed partners were also suffering from the effects of this. He has studied sleep breathing disorders at post graduate level to ensure he can care for these patients with the latest techniques and treatments.
Jonathan is a member of the British Society of Occlusal Studies as well as a Full Member of The British Academy of Cosmetic Dentistry.
If you have concerns about your health due to snoring or your partner's snoring please contact Evolve on 01275 842550